Oliver Gabe Friedman sent in another great work: "This is a follow up piece to 'he proud, she joyful'… It's so nice to feel the love between these two. It exemplifies the idea that behind every great man there is a great woman. Or lets say behind any great person are other great people that love them and support them and believe in them."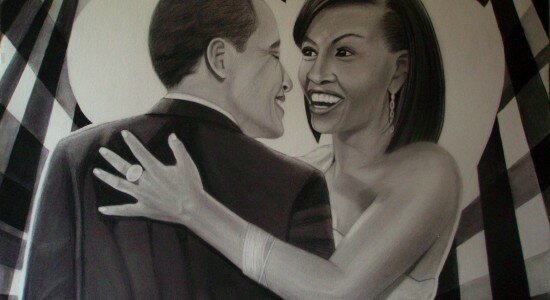 More
More from :
This is a follow up piece to "he proud, she joyful". The size is 26″X40" and done once again with charcoal and graphite.
It's so nice to feel the love between these two. It exemplifies the idea that behind every great man there is a great woman. Or lets say behind any great person are other great people that love them and support them and believe in them. Within this pure love there is no room for jealousy or insecurity. Anything is possible when two people truely want to see each others dreams become reality.
Look for the heart in this drawing: A Symbol of Love.
Please feel free to click on my name to email regarding my art. And thanks to the awsome people who run this site!
Full Size: