Reader Jamie pointed us to a wikipedia article about Michael D'Antuono's painting The Truth: "It portrays Obama as Jesus Christ in a crucifix position, wearing a crown of thorns, and standing in front of the U.S. presidential seal. The acrylic painting on canvas measures 30 x 54."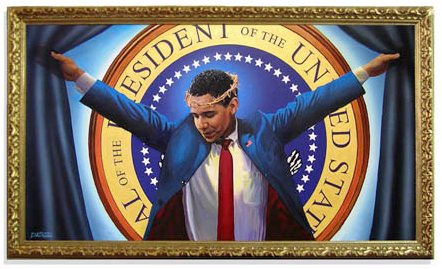 More from Wikipedia:
According to a press release by D'Antuono's publicist, Noah G POP Fine Art Management, published on April 24, 2009 by PR Newswire and republished by Reuters, D'Antuono was planning to unveil the painting on the South Plaza of New York City's Union Square on April 29, 2009 to mark the 100th day of Obama's presidency and invited e-mails about his self-proclaimed "controversial" painting. In a press release by D'Antuono's publicist, D'Antuono canceled the public unveiling due to negative public reactions including thousands of e-mails and phone calls, as well as blog posts in the three days after his initial press release.
D'Antuono stated "The religious reference was used metaphorically and not to insult anyone's religious beliefs," and apologized "If that is the effect that my art has had on anyone, I am truly sorry."